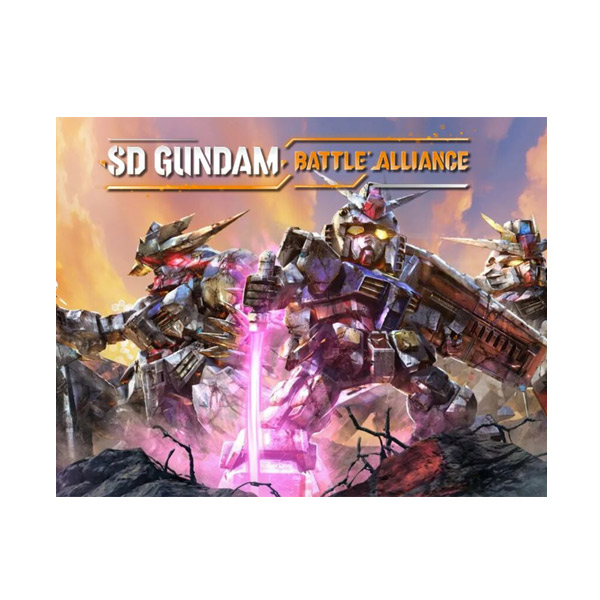 PS4 + pS5 game - SD GUNDAM BATTLE ALLIANCE (Standard Edition)
717 point
This product entitles you to download both the digital PS4™ version and the digital PS5™ version of this game.

*Also available are the "Ultimate Edition", containing the main game, the Season Pass, and the Premium Sound and
Data Pack, and the "Deluxe Edition", containing the main game and the Season Pass. Please avoid purchasing the
same item multiple times.

*The main game version of this game supports the following languages: English, Thai, French, Italian, German,
Spanish - Spain, Portuguese – Brazil, Spanish - Latin America and Japanese.

*Check the official website for more details.

Game Content
"SD GUNDAM BATTLE ALLIANCE" is a new SD Gundam action RPG featuring mobile suits and characters from many
different titles in the "Mobile Suit Gundam" series.

■A Battle Alliance to bring order to a false world
The story takes place in G: Universe, a world in which the Gundam story has been twisted into a false narrative.
In order to correct the errors in this false story, the player is appointed Commander of a three-unit Battle Alliance, and
must work together with other Mobile Suits and pilots to complete missions.

■Combo action with stunning visuals and dynamic animation
Enjoy the thrill of using a wide array of Mobile Suit weaponry to unleash powerful combo actions to crush your foes.
Control Mobile Suits portrayed with realistic weathering that showcases them as weapons of war as they tear across the
battlefield with stunning visuals and dynamic animations.

■Relive great scenes from the Gundam canon as you correct the false narrative and restore truth to the Gundam story
The Gundam canon has been twisted by strange phenomena known as Breaks - it is your task to fix the story.
Develop new Mobile Suits by gathering Capital and expansion parts to transform your favorite machine into the ultimate MS.

■Tackle missions with friends in multiplayer!
The various missions awaiting you can be attempted by a squadron of up to three players.
In multiplayer, you can play through the game with up to 2 other players in a 3-person team.

If you already own the PS4™ version of this game, you can get the PS5™ digital version at no extra cost and you do not need to purchase this product. Owners of a PS4™ disc copy must insert it into the PS5™ every time they want to download or play the PS5™ digital version. PS4™ game disc owners who buy the PS5™ Digital Edition disc-free console will not be able to get the PS5™ version at no extra cost.