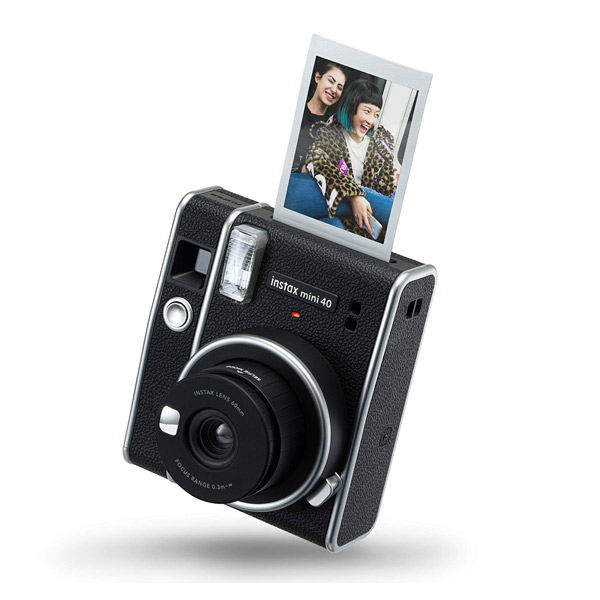 Fujifilm Instax Mini 40
1,448 point
Specifications
Film
FUJIFILM instax mini instant film

Photo Picture Size
62 mm × 46 mm

Lens
2 components, 2 elements, f = 60 mm, 1:12.7

Viewfinder
Real image finder, 0.37×, with target spot

Shooting Range
0.3 m and beyond (use selfie mode for 0.3 m to 0.5 m)

Shutter
Programmed electronic shutter 1/2 to 1/250 sec. Slow synchro for low light

Exposure Control
Automatic, Lv 5.0 to 14.5 (ISO 800)

Film Ejection
Automatic

Film Developing Time
Approx. 90 seconds (varies depending on the ambient temperature)

Flash
Constant firing flash (automatic light adjustment), recycle time: 6.5 seconds or less (when using new batteries), effective flash range: 0.3 to 2.7 m

Power Supply
Two AA-size alkaline batteries (LR6), capacity: approx. 10 instax mini film packs of 10 exposures each

* Manganese batteries cannot be used.
Auto Power Off Time
After 5 minutes

Other
Includes film counter and film pack confirmation window

Dimensions
104 mm × 121 mm × 65 mm

Weight
330 g (without batteries, strap, and film)

The instax prints depicted are for illustrative purposes only.